First look at an Elipson turntable
Author: Brian Date Posted:11 August 2017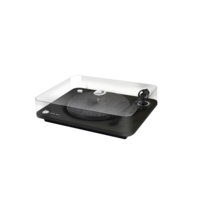 French style and electronic sophistication.
An Elipson Alpha 100 arrived the other day, the base model of their range, so I was keen to evaluate it. It came well protected in a large carton with cleverly positioned foam pieces preventing any damage in transit to the tonearm and lid. Once unpacked it was possible to see the high standard of construction and finish. It certainly is a nice looking unit. The platter is pressed steel and a felt mat is provided. Accessories include the power supply (with Australian plug), drive belt, RCA interconnects (reasonable quality but the fact that they plug in means they can be upgraded if desired), a 45 adapter (for singles with the large centre hole), and a User Manual in French and English. Also included is a Club Elipson membership card and instructions to register. Presumably this will enable Elipson to send information about new products.
The tonearm comes with an Ortofon OM10 cartridge already installed, so there was nothing to set up in that respect. Once the power supply was plugged in and the belt was placed over the platter and motor pulley I was ready to play some LPs I know well. There is a nice long fingerlift with which to place the cartridge onto the record, but the absence of a lowering device is a bit of a surprise. One unusual feature for a record player in this price range ($599) is the electronically controlled motor with makes changing the speed from 33 to 45 rpm a matter of flicking the switch on the front left. Also surprising is the way the motor hesitates before smoothly spinning up to the correct speed - a nice little bit of electronic wizardry. Most turntable motors try to run at full speed as soon as turned. Also with most turntables in this price range you have to remove the platter and move the drive belt from one pulley to another. The lid has friction hinges so it will stay open, or can easily be removed.
Listening tests confirmed previous reviews that it is a nice sounding unit. Comparing a new re-release of Buena Vista Social Club double LP to the CD revealed that the vinyl version sounded fuller, more natural, and more enjoyable. The lack of a lowering device did not prove to be much of an issue as the fingerlift on the tonearm is quite long and makes it easy to cue a track and lift off at the end of a side. I am yet to try out the versions of the turntable including the phono stage, and also BlueTooth, but this basic model is definitely a good performer. I rate it better than the Pro-Ject and Rega models in the same price range.
There are five models in the Elipson range.
The Alpha 100 includes an Ortofon OM10 cartridge. $599
The Alpha 100 RIAA also includes a phono stage. $699
The Alpha 100 RIAA BT has a Bluetooth transmitter and USB output as well. $899
The Omega 100 RIAA features a high gloss plexiglass chassis, and Carbon tonearm, plus the OM10 and phono stage. $899
The Omega 100 RIAA BT has all the above plus the Bluetooth transmitter and USB output. $999
---
Leave a comment