Standard Replacement Belts
Free Postage for all Turntable Belts
Most of our standard turntable belts are $25.95 and all come with free postage.
Our standard belts are 5mm wide and .6mm thick and range in diameter from 160mm to 292mm. They come in various lengths to suit a wide variety of turntables, particularly all the Japanese brands popular in the 70s like Akai, Aiwa, Apan, CDC, Denon, Hitachi, Kenwood, JVC, Luxman, Marantz, Onkyo, Panasonic, Pioneer, Technics, Sanyo, Sansui, Sharp, Toshiba, Yamaha etc.
When you place your order you will need to select the appropriate size for your turntable.
These standard belts are not manufactured for the particular brands and models but rather a series of sizes that fit a variety of brands.

Which size turntable belt do I need?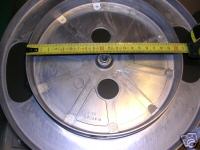 To work out what size you require you will need to measure the diameter of the subplatter. The subplatter is the cylindrical section on the underside of the platter that the belt goes around. On some turntables it is a separate item and the platter lifts off it. With many turntables it is like this photo where there is a raised cylinder on the underside of the platter. You'll need to lift the platter off and turn it over. To select the correct size belt measure the diameter (the distance across not around) the subplatter. This will usually be in the range 140mm to 210mm. Then choose the belt size just below the measurement. eg if the diameter is 198mm, choose a 195 belt.
Money-back Guarantee
We offer a 100% money back guarantee on our turntable belts. If for some reason it is the wrong one post it back and we will swap it for the correct one.
---