AUDIO TECHNICA AT440 stylus options
Author: Brian Date Posted:15 July 2017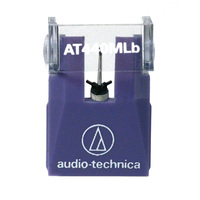 The discontinuation of replacement stylus assemblies by Audio Technica for their AT440ML cartridges is disappointing.
AUDIO TECHNICA announced their new VM range of cartridges earlier this year and have discontinued the AT440MLb cartridge which is the one I used to recommend as an upgrade from the more basic types included with most entry level turntables.
I was able to grab the last of the stock held in Australia by the AT importer, but have not been able to get any more from overseas distributors. This is disappointing as the new VM540ML which is the replacement is considerably more expensive (although still good value) and its specifications are not quite as good, although it is probably a bit more robust as it tracks at 2.0g compared to the 1.4g of the 440.
Even more of a concern for existing owners of AT440MLa or AT440 MLb cartridges is that the replacement stylus assemblies are also discontinued. I have been able to secure a small quantity but they won't last long.
However, all is not lost as there are a number of stylus assemblies which can be used in the AT440 models. In particular the ATN120E (elliptical) can be used, although it is a downgrade in terms of diamond shape. Also the the ATN150MLX and ATN150SA can be used - these are quite a bit more expensive but the ATN150MLX does feature a boron cantilever as well as the Microline diamond tip. The VMN540ML stylus assembly can also be used (tracking at 2g).
Below are the specifications of the styli mentioned so you can do your own comparisons.
Audio-Technica VMN40ML stylus specifications
- Type: VM
- Frequency response: 20 ~ 27,000 Hz
- Output voltage: 4.0 mV (1kHz, 5 cm/sec.)
- Channel separation: 30 dB (1kHz)
- Output balance: 1.0 dB (1kHz)
- Tracking force: 1.8 ~ 2.2 g (2.0 g standard)
- Static compliance: 40 × 10-6 cm/dyne
- Dynamic compliance: 10 × 10-6 cm/dyne (100Hz)
- Stylus: Nude Microline (2.2 × 0.12 mil)
- Cantilever: Aluminum tapered pipe
- Vertical tracking angle: 23 °
Audio-Technica ATN440ML Stylus Specifications
- Frequency response: 5Hz-35kHz
- Output voltage @ 1kHz,5cm/sec.: 5mV
- Channel balance: 0.75dB
- Channel separation @ 1kHz: 30dB
- Stylus type: 0.12 mil nude square Micro-line stylus
- Cantilever: Tapered alloy tube
- Tracking force range: 1.0-1.8g (1.4 optimal)
- Color: Violet
Audio-Technica ATN440MLb Stylus Specifications
- Frequency response: 20Hz-25kHz
- Output voltage @ 1kHz,5cm/sec.: 4.0mV
- Channel balance: 0.8dB
- Channel separation @ 1kHz: 27dB
- Stylus type: 0.12 mil nude square micro-linear stylus
- Cantilever: Aluminum tube
- Tracking force range: 1.0-1.8g
- Tracking force recommended: 1.4 g (14 mN)
- Color: Violet
Audio-Technica ATN120E Stylus Specifications
- Frequency response: 15Hz-25kHz
- Output voltage @ 1kHz,5cm/sec.: 5mV
- Channel balance: 1dB
- Channel separation @ 1kHz/10kHz: 29/20dB
- Stylus type: 0.3 x 0.7 mil Nude Elliptical diamond
- Stylus construction: Nude round shank
- Cantilever: Thin-wall tube
- Tracking force range: 1.0-1.8g
- Color: Orange
Audio-Technica ATN150MLX Stylus Specifications
- Frequency response: 10Hz-23kHz
- Output voltage @ 1kHz,5cm/sec.: 4.0mV
- Channel balance: 0.8dB
- Channel separation @ 1kHz/10kHz: 30/20dB
- Stylus construction: Nude square shank
- Stylus type: 0.12 mil nude square MicroLine stylus
- Cantilever: Gold-plated boron
- Tracking force range: 0.75-1.75g
Audio-Technica ATN150SA specifications
- Type: Moving Magnet VM Dual Magnet Stereo
- Frequency response: 10 ~ 25,000 Hz
- Output voltage: 4.0 mV (1kHz, 5 cm/sec.)
- Channel separation: 30 dB (1kHz)
- Output balance: 1.0 dB (1kHz)
- Tracking force: 1.0 ~ 1.8 g (1.4 g standard)
- Static compliance: 40 × 10-6 cm/dyne
- Dynamic compliance: 10 × 10-6 cm/dyne (100Hz)
- Vertical tracking angle: 23 °
- Stylus: Nude Shibata
- Cantilever: Aluminum, taper pipe
---
Leave a comment