LOVE YOUR VINYL?
We share your passion.
The way music is recorded on a vinyl
record we think is quite miraculous.
That a tiny wiggly groove in a plastic disk is capable of storing music
with incredible detail and realism.
And that the technology was introduced more than 60 years ago
and is still being used today makes it all the more remarkable.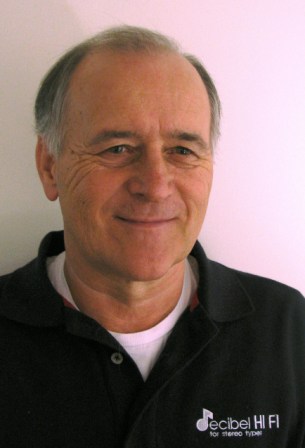 Hi I'm Brian Maddern.
And I've been a vinyl lover and supplier of quality equipment since the mid 1970's when I opened the Decibel Hi Fi Centre in Adelaide.
We had agencies for many famous brands such as
Sonab

Bose

Gale

Meridian

Kef

Dynavector

Pioneer
Some 23 years later that long time love of music reproduction equipment led to the launch of Decibel Hi Fi as an online store and we began importing products from many new and exciting manufacturers
In 2002 I visited the Origin Live workshop in the UK for training on their turntables and tonearm upgrades as well as the factories of Moth, The Cartridge Man and Graham Slee.
More recently we have been very excited to add the range of Icon Audio valve amps and the Record Doctor cleaning machines as well as Nitty Gritty products and Van Den Hul cables and connectors.
Many of the brands we stock are exclusive to Decibel Hi Fi as we are the sole importer and distributor.
But sometimes it's not the big things but the little things that make the difference to the quality of the listening experience. Like vibration absorbers underneath your equipment, or removing dust from the record or the stylus before playing.
Above all Decibel Hi Fi's emphasis has always been on products that provide outstanding value for money. To this end, I am continually researching and testing and adding to our product range.
Fine tuning you might say.
What does all this mean for you?
Confidence
If it's on our website you can be sure it's passed the test. Clever technology, elegant solutions and above all value for money.
Time saved
We've done the research so you don't have to.
Tell us what you're trying to achieve and we'll advise you on your best option
Cost
As an on-line store our costs are less. That allows us to keep prices as low as possible. It's that simple.
Expert and Unbiased advice
We're not aligned to any brand. We have no investors or shareholders. We simply love listening to music and finding the products that do the best job. And then sharing that knowledge with you.
Guarantee
The final test is in your own listening environment with your own equipment. No demonstration room can replicate that.
Buy it. Try it. If it doesn't provide the improvement you were expecting then return it. Simple.
Over the years thousands of music enthusiasts have sought our expertise in choosing their equipment and accessories.
Here's a bit of what they've had to say.
15/11/16
Hi Brian – all I can say is WOW, the difference with this cartridge and some reasonable leads is just amazing. Thanks heaps – it has been worth every cent!! Mike
( I recommended an Audio Technica AT440MLb)
10/11/16
Hi Brian,
Just wanted to let you know my tonearm arrived safely yesterday afternoon.
Very pleased with the quality of product and your excellent quick service.
Thanks very much. S.W. WA
15/05/15
Hi Brian, Just a quick note to say thank you for your exceptional service. I ordered the new cartridge and the order was processed the same day and arrived here in WA the next day. I wish every retailer was as professional and helpful as you were. Thanks for your advice on the phone and Decibel Hi Fi will definitely be my go to store from now on for any of my audio & vinyl needs.
Please feel free to post this on your feedback page. I will be in contact next week re ordering a Record Doctor V cleaning machine.
Regards, Robert Rosso
21/05/15
Just a quick note to say thank for the prompt delivery of my order Miles Davis – Milestones Numbered Limited Edition LP. I also thought the packing was outstanding. Many thanks again. Lorraine Frost
11/3/15
Hi Brian,
I received my belt from you today and after watching a few videos successfully installed it! I am happy playing my LPs as I type this. I am a very satisfied customer and will recommend you to all I know. Thanks so much for all of your help.
Kind regards, Colette
18/11/14
Dear Brian, Thank you for the prompt and excellent delivery of the Attenuators. They have certainly contained the beast and it has made a difference and I am still adjusting to this. By the way, the service that you have provided is exemplary and I would be pleased to recommend you to one and all.
Thank you once again.
Respectfully Gerald B.
26/8/14
Hi Brian, My order arrived quickly thanks for the quick service.
Regards,
Colin Drever
20/8/14
Dear Brian,
I am very grateful for you sending a replacement and responding and taking action so quickly. My reaction on discovering the breakage was principally one of sadness - It is such a lovely item and perfectly complements the design of the new speakers I bought it for. So this has really put a smile on my face. Top notch customer service! Thank you again, best wishes, Kevin Anslow
17/11
Thanks Brian. Received the sleeves, and they are perfect.Thanks for your prompt service, it is much appreciated.Grant
Contact us by phone on 07 3344 5756 or by email at enquiry@decibelhifi.com.au .
We'd love to hear from you and share in your vinyl experience.